'Fantastic' people return £1,000 that blew away in Manchester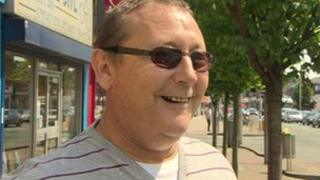 A man who tripped up in the road and saw £1,000 cash blow away in the wind has praised the people who helped him get back all but £20.
Barry Eastwood, from Salford, said passers-by kept returning cash which had blown away in Cheetham Hill, Manchester.
"I thought it had all gone but people kept coming up to me and saying, 'Here you are mate'," said Mr Eastwood.
"It was fantastic, I couldn't believe it," he said.
Mr Eastwood had just been to the bank to withdraw £1,000 to pay his car insurance when he stumbled.
'Leaping for cash'
"I fell flat on my face and looked up and saw all the money in the air flying about because a big gust of wind had taken it. I thought it had definitely gone," said Mr Eastwood.
"I just saw loads of lads jumping up and grabbing the money and I thought, 'I've had it now'."
Mr Eastwood said he was stunned when people started returning his cash. He got into his car to check the money.
"To my surprise when I counted my money up there was £980.
"When I got up I was a bit dazed and had left my passport in the road with my bank card and somebody came to the other side of the car and threw them in as well," he said.
He said people of various nationalities and backgrounds had returned the money. The incident restored his faith in people, he said.