GMP Chief Constable Peter Fahy receives knighthood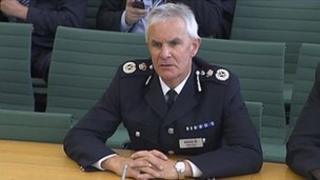 The chief constable of Greater Manchester Police has received a knighthood in the Queen's Birthday Honours List.
London-born Peter Fahy has been in charge of the force since 2008.
He said: "You can't give a knighthood to a whole police force so it has been given to me as leader of such a hard working organisation."
Mr Fahy joined the police in 1981 and has served in four forces and was formerly head of Cheshire Police.
"My parents came to this country as very poor Irish immigrants in the late 50s and the fact that in one generation I can get to this position says a lot about why this is such a great country," he said.
Asylum seekers
A woman credited with being a major influence in promoting midwifery research has been made a Dame.
Professor Tina Lavender, from the University of Manchester, who is also an Honorary Fellow of the Royal College of Midwives, has advised both the UK Government and the World Health Organisation.
A former German teacher who founded a charity to help destitute asylum seekers in Manchester is to become among the first people in 20 years to be awarded the British Empire Medal (BEM).
Dave Smith, 62, from Gorton, established the Boaz Trust out of a Christian-based charity for the homeless, to provide support, food and accommodation to people seeking asylum.
A mother-of-four from Greater Manchester, who started a charity to provide somewhere for teenagers to meet, has been appointed an OBE for her services to community cohesion.
Debra Green, 53, was the prime mover behind a church-based project called Redeeming Our Communities which has spread all over the UK to help improve the quality of life in local communities .
It has built partnerships between police, the fire service, churches, voluntary groups and others to tackle issues from anti-social behaviour to the isolation felt by elderly people.
There is an MBE for Tony Lowe, from Greater Manchester, who founded the charity FareShare, which redirects food trade surpluses to those in need.
Another recipient is Salford-born sculptor John Blakeley, whose commissions have included a memorial at the Ravensbruck concentration camp chapel and a piece for the War Graves Commission.