Heywood grooming: Chief Constable says more arrests 'likely'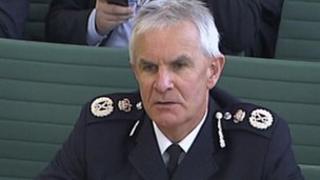 The Chief Constable of Greater Manchester has said more arrests are likely in connection with a child sexual grooming ring in Heywood.
Peter Fahy said he hoped more victims of sexual abuse will come forward after nine men were jailed on Tuesday.
The men, from Rochdale and Oldham, who exploited girls as young as 13 were given sentences from four to 19 years.
Five girls gave evidence, but police believe there may have been up to 47 victims.
The nine defendants, eight of Pakistani origin and one from Afghanistan and aged between 24 and 59, were found guilty of offences including rape and conspiracy to engage in sexual activity with a child.
Mr Fahy said there had been "a number of arrests" in other sexual abuse cases and there were "a number of other trials pending".
'Damaged individuals'
But he said the vulnerability of the witnesses made it difficult to bring the cases to court.
"They are damaged individuals, they have weaknesses in their own backgrounds which we know will be exploited by defence solicitors," he said.
"But I think the sentences will send out a strong message and hopefully will encourage more victims to come forward.
"The public are getting a better understanding of this particular (grooming) problem and that will mean we will be able to do more investigation."
Mr Fahy said that for operational reasons he could not give an indication about when further arrests might be carried out.
On sentencing at Liverpool Crown Court, Judge Gerald Clifton said the convicted men treated the girls "as though they were worthless and beyond respect".