'Premiership' couple jailed for money laundering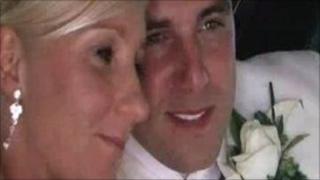 A married couple from Salford who enjoyed a "Premiership footballer type lifestyle" while claiming benefits have been jailed for money laundering.
Richard and Lisa Smith, both 30, owned luxury cars, went on numerous holidays and spa breaks and had a £20,000 wedding at a church in Salford in 2009.
They both pleaded guilty to money laundering at Manchester Crown Court at an earlier hearing.
Richard Smith was sentenced to 11 years while his wife received 18 months.
Richard Smith had also admitted separate charges of conspiracy to commit arson and escaping from lawful custody.
'Extravagant spending'
The couple, from Pegwell Drive, were arrested in May 2010 on suspicion of involvement in a fire at a vehicle recovery yard the previous year.
He then escaped from a security van at the back of Salford Magistrates' Court while answering those charges.
He was later arrested in Spain and extradited to the UK.
During the subsequent investigation, officers found the couple lived an "extravagant" lifestyle in spite of Smith being on £15,000 a year and his wife claiming benefits.
Police discovered that they owned an Audi S3 and Range Rover worth £45,000, had a collection of designer clothing and jewellery, and had paid for private dental work totalling £17,000.
They said that a DVD of their wedding ceremony showed that the couple knew a large number of local criminals.
Officers said they were living like a Premiership football couple.
"The Smiths were living a lifestyle and driving around in cars that many honest hard-working people only ever dream of.
"This money undoubtedly came from criminality as neither had any discernible legitimate income that could fund such extravagant spending.
"The couple are a negative role model to the Salford community," said Det Sgt Simon Akker.