Cockleshell hero James Conway could get memorial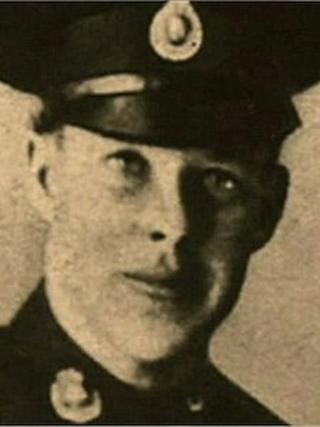 A campaign to erect a memorial in Stockport to one of the town's World War II heroes has begun.
James Conway, from Edgeley, was one of 12 marines known as the Cockleshell Heroes who attacked German cargo ships in Bordeaux harbour in 1942.
Marine Conway, who succeeded in planting limpet mines on the ships, was executed for his part in the operation.
Campaigner Ken Brotherhood said: "Everywhere should have someone of his calibre to look up to."
Mr Brotherhood, of Manchester and Salford Royal Marines Association (MSRMA), said he had realised James Conway was from Stockport after seeing Lord Ashdown's BBC programme on the Cockleshell Heroes - The Most Courageous Raid of WWII - in November.
He then wrote to Stockport Council pointing out that while other marines involved had their own memorials, Marine Conway, who was 20 when he died, did not.
Mr Brotherhood said he hoped the memorial would be in place by the 70th anniversary of the raid, known officially as Operation Frankton, in November 2012.
He said it was important that Stockport remembered its heroic former resident, as he was a good example to the town.
"If the young people of Stockport could display the sort of courage and dedication that he did, it would be a marvellous thing," he said.
'Illegally shot'
Dave Goddard, leader of Stockport Council, said he was grateful to the MSRMA "for bringing James Conway's role as one of the Cockleshell Heroes to my attention".
"Mr Conway's actions in volunteering for what was effectively a suicide raid deep in enemy territory makes him nothing short of a true Stockport and national hero," he said.
"I agree with the MSRMA and feel that Mr Conway's heroic actions do need to be commemorated with a lasting tribute, such as a plaque.
"We are now working with the MSRMA to see how this can be best achieved."
After hearing about the campaign, Lord Ashdown said he would do anything he could "to help to remember and honour this remarkable young man".
He said the most impressive thing about the Cockleshell Heroes was that they were all "ordinary guys".
"All the best people had been already taken away to the commando units by 1942, so what [operation leader Maj Herbert] Hassler had was just 11 ordinary guys," he said.
"James Conway was a milkman before the war and his best friend was his horse.
"He probably shouldn't have gone on the operation, because he took the place of someone who had been injured.
"He managed to get through and planted his limpet mines, but was injured and taken to hospital.
"He was betrayed by a Frenchman, arrested by the Gestapo and almost certainly tortured in the headquarters in Bordeaux.
"He was then taken away and illegally shot in 1943."