Rebecca Leighton: Nurse seeks help from Max Clifford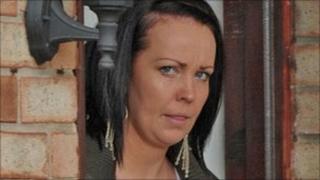 The nurse arrested over the deaths of patients at Stepping Hill Hospital has asked publicist Max Clifford to help her clear her name.
Rebecca Leighton, 27, spent six weeks in prison charged with contaminating saline at the Stockport Hospital.
She was released last week when the Crown Prosecution Service said there was not enough evidence to charge her.
Mr Clifford said damage had been done to her reputation and she now wanted to get her life back to normal.
Speaking to BBC Radio Manchester, he said anybody could understand how she felt after all she had been put through.
"She feels relief and she feels gratitude to her family, to her friends who never doubted her innocence and the support they gave her, and sorrow for the victims for what went on in hospital," he said.
'Poisoned' by media
"It's a combination of things and an anxiety to get the truth out there and make sure everybody knows the truth of what has happened.
"She has been very badly criticised and written about by the media so I suppose it's natural that you would go to someone who understands the media to get that put right.
"All she said to me is, I suppose it boils down to, 'I've been poisoned by sections of the media and I hope that you can provide the antidote to get rid of all that poison' because you know, mud sticks and a lot of the things that have been written have been absolutely awful.
"It used to be that you are innocent until you are proven guilty but it isn't like that any more."
Ms Leighton, of Heaviley, Stockport, has said her life was "turned upside down" and became a "living hell" when she was arrested at her flat on 20 July on suspicion of murder.
She was formally accused of causing criminal damage with intent to endanger life two days later, and remanded in custody for her own protection.
Ms Leighton was released from HMP Styal on Friday.
The investigation began in July, when a higher than normal number of patients at Stepping Hill were reported to have "unexplained" low blood sugar levels.
Fears were raised that saline solution had been contaminated with insulin.
About 200 people have already been spoken to as part of the inquiry and police are planning to interview a further 500 people.
These include staff, patients and visitors, who could have had access to the area during the time the tampering could have taken place.
The three patients whose deaths police are known to be investigating are Tracey Arden, 44, Arnold Lancaster, 71, and Derek Weaver, 83.
Four more suspected victims have yet to be named but their families are aware the cases have been referred to police by the coroner.