Plans to expand riot-hit Salford shopping precinct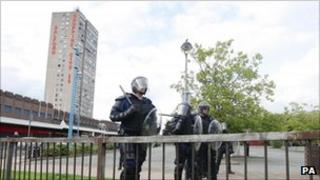 A shopping centre in Greater Manchester which was badly damaged during riots could be expanded if plans are given the go-ahead.
The owner of Salford Shopping City, Salford Estates, has applied to the local council to extend the centre.
It is hoped the expansion would create 300 full and part time jobs.
Rioting broke out at the precinct on the afternoon of 9 August. Police officers were attacked and shops were set alight and looted.
The violence and disorder then spread to Manchester city centre.
'Real boost'
Salford Estates said it had submitted plans to Salford City Council to extend the shopping precinct with 13 new, double-height shop units and a new market hall.
The plans require the closure of nearby Pendleton Way to traffic.
Debbie Illingworth on behalf of Salford Estates said: "These changes will transform the shopping experience at the centre.
"Big brand retailers demand modern, double height shops and by providing these together with some smaller units and significantly improved space for the market traders we can expand the range of shops on offer in areas like sports and fashion.
"We are focused on moving forward from the recent events in and around Salford shopping centre and are wholly committed to the long-term future and prosperity of the centre and being part of its success."
Councillor Gina Loveday, who represents Langworthy ward on Salford City Council, said she was "delighted" by the plans.
"It is really positive that it is going to create around 300 jobs for local people and that will really help with the regeneration of the area.
"It will be a real boost to the local economy."
John Winder, from the Federation of Market Traders in Salford, said improving the market had been discussed for the last 10 years but Salford Estates had moved it forward after buying the centre last year.
He said traders would be involved in improving the new market and would be looking at others in the north west, such as Blackburn.
He added: "Salford needs a centre and this is the ideal opportunity to put it forward."