'I Love Salford' wall at Shopping City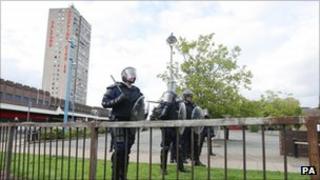 People in Salford are being urged to write what they love about the city, in the wake of rioting earlier this month.
The council and emergency services have launched a campaign, by creating a wall at Salford Shopping City for people to leave comments on heart shaped notes.
The campaign has also been started on Twitter and Facebook.
A council spokeswoman said it wanted to "restore public pride in Salford after the riots and get residents thinking about what's great about their city".
A similar wall was created in Manchester's Arndale Centre, as well as in areas of London affected by the rioting.
'Vibrant and exciting'
Disorder broke out in Salford and Manchester city centre on 9 August, following several nights of rioting in London after Mark Duggan was shot dead by police in Tottenham.
More than 300 people have been arrested by Greater Manchester Police. Of those, more than 200 have been charged.
Many have been jailed for offences including burglary, theft and possessing an offensive weapon.
Salford Council leader John Merry said: "In the past few weeks we've seen the people of Salford really standing up against the minority of criminals responsible for the riots.
"It's been great to see this level of civic pride and we want to show that our city has a lot to offer.
"We want to stand up for the citizens of Salford who didn't take part in the riots and really have a lot of pride in this vibrant and exciting city."