Boy's love of Huey helicopters praised by Vietnam veterans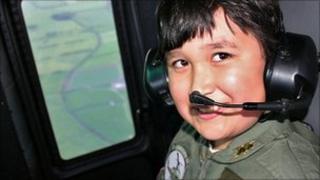 A schoolboy's love for an American military helicopter has seen him become a hit amongst Vietnam War veterans.
Nine-year-old Kevin Dutton, from Davyhulme, Trafford, has started a website about the Bell UH-1, known as a Huey.
It has quickly become a success, receiving 500 hits a day and earning praise from veterans in America.
Kevin's father, Ken, said that since his son saw the aircraft at an air show, he had been "driving me up the wall with it".
Mr Dutton has helped his son put the website - the Huey Fan Club UK - which also features information about helicopters such as the Hughes OH-6 'Loach' and Bell AH-1 'Cobra'.
He said: "I'm more than amazed; it's just tremendous.
"We've had people who were pilots in Vietnam and troops who flew in them writing to him, saying that they can't believe that this nine-year-old boy in England has got an interest [in the Huey].
"They're sending him stories, photographs, he's even had a couple of invites to go to the States to have a go in one."
'Best day ever'
Amongst those to offer words of encouragement and thanks on Kevin's site are a three-time recipient of the Purple Heart - a medal given to American military personnel who are wounded or killed in action - a former Colonel in the US Army and a former Australian pilot who used the helicopters in Cambodia.
Shortly after beginning the website, Mr Dutton was called by the owners of the only flying Huey in the UK, which is based in Blackpool, offering Kevin a place on the ground crew for the day.
On arrival Kevin was taken on board to be flown around the skies of Lancashire.
He described the experience as "the best day in my life".
Helicopter ambition
Mr Dutton said his son's interest in helicopters began when he was five after an unexpected visitor came to his school.
"He's always liked them, but in 2007, one landed at his school. They were allowed to have a look inside it and he loved it.
"About a year ago, he saw the Huey and got chatting to the crew around it.
"He was wearing his flight suit and they were really impressed by his interest.
"Since then, he's been driving me up the wall with it."
Unsurprisingly, Kevin now plans to become a helicopter pilot when he grows up.
When his father told him he would have to work hard to achieve his ambition, Kevin came up with another idea.
"When he met the owner of the Huey, he was told that to become a pilot, he'd have to do well at school.
"Kevin answered that he'd just become a millionaire like him and buy one.
"That said, I think he got it into him that if he gets his head down, there's a chance," said Mr Dutton.