Views wanted on Manchester's second tram crossing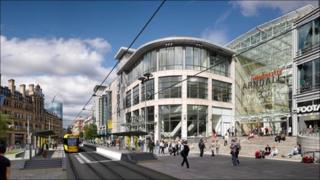 People are being urged to give their views on plans for a second tram crossing across Manchester city centre.
Transport bosses want to build an alternative Metrolink route called the Second City Crossing (2CC) by 2016.
The line would run from St Peter's Square, along Princess Street, Cross Street and Corporation Street. There would be a new stop in Exchange Square.
Transport for Greater Manchester (TfGM)'s consultation on the plans ends on Friday 9 September.
Philip Purdy, TfGM's Metrolink director, said: "As part of the public consultation on the new line, we have held a very successful series of public exhibitions, where thousands of people took the time to find out more about the plans and speak to our Metrolink team face to face.
"However, although those events are now over, there's still time for you to tell us what you think about our proposals before the consultation ends on 9 September.
"We want to encourage anyone who hasn't already responded to the consultation to get in touch by emailing or writing to us."
Transport bosses hope work would start in 2013 with the new line in operation in late 2016.
The plans also include enlarging St Peter's Square stop and enhancing Metrolink facilities at Victoria Station.
People can take part in the consultation by collecting a brochure from Travelshops, online, or by writing or emailing TfGM.