John Rylands Library buys 'missing' Colonna Missal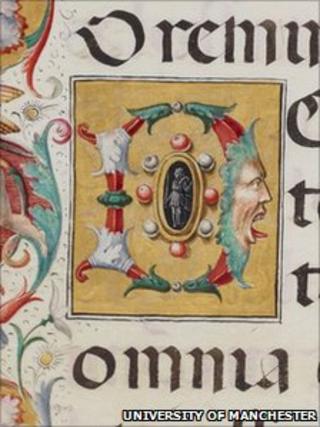 A Renaissance manuscript made for use in the Sistine Chapel has been reunited with six similar volumes to complete a rare collection in Manchester.
Six parts of the 471-year-old Colonna Missal have been held at John Rylands Library since 1901.
The seventh "missing" part recently came up for auction, allowing the library to buy it for £188,750.
Director Jan Wilkinson said it was the library's "most important single-volume acquisition in the last 40 years".
The seven-part Colona Missal - a book which contains the service of the Mass for the whole year - was commissioned by Cardinal Pompeo di Girolamo Colonna for use in the Vatican's Sistine Chapel.
Completed in about 1540, the volume was designed to be as striking as the chapel's other addition at that time, Michelangelo's fresco of the Last Judgement above the high altar.
Six books of the missal were bought by collector Alexander Lindsay, the 25th Earl of Crawford, in 1868 for £1,500.
These books passed to the John Rylands Library in 1901 when its founder, Enriqueta Rylands, bought much of the Lindsay family's library.
The seventh part was separated and had been held in private collections in the UK and the US before its sale at auction.
Ms Wilkinson said the library was "delighted to have secured the missing volume of the Colonna Missal".
"We could not pass over this opportunity of reuniting all seven surviving volumes of the missal, which have been separated since at least 1868.
"The restoration of the missing volume greatly enhances the significance of the entire set."
The volume was bought using joint funding from the Art Fund, the MLA/V&A Purchase Grant Fund, the Friends of the John Rylands, the B.H. Breslauer Foundation, and the Friends of the National Libraries.