Manchester Metrolink to be operated by French firm RATP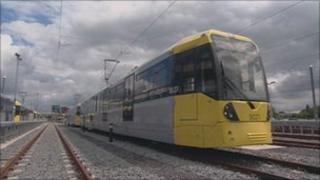 Manchester's Metrolink tram network is to be operated by a French government-owned transport company.
Trams will now be operated by RATP Dev UK, a subsidiary of RATP that also runs the Paris Metro.
The group took over the contract from Stagecoach, who ended their contract on Monday.
The network, including the trams, platforms and track, will continue to be owned by Transport for Greater Manchester (TfGMC).
Metrolink currently has lines running between the city centre and Bury, Altrincham, Eccles, South Manchester and MediaCityUK.
TfGMC is part-way through a £1.4bn expansion and improvement of the network that will ultimately take trams to Didsbury, Ashton-under-Lyne, Oldham and Rochdale, and Manchester Airport via Wythenshawe.
Improve services
Plans for a second cross-city line are also under way.
Councillor Andrew Fender, chair of TfGMC, said: "RATP Group has a span of expertise covering 12 countries and the experience of carrying 12m passengers a day.
"They will help us to continue to improve services, providing us with access to experts who are operating tram services and light rail systems in major cities across the world, from Paris and Florence to Seoul, Hong Kong and Mumbai.
"We welcome RATP to Manchester and are looking forward to working with them."
Metrolink Director Philip Purdy added: "I would like to thank Stagecoach for their contribution and commitment to Greater Manchester over the past four years.
"RATP Group is a global name in public transport and passenger services and we will have access to a significant amount of expertise in everything from operations and engineering to passenger service and technology, including smart ticketing."