Salford burglar death: No prosecution over stabbing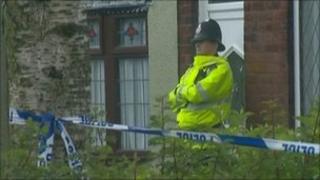 A man who fatally stabbed a burglar at his home in Salford will not be prosecuted, the Crown Prosecution Service (CPS) has said.
Peter Flanagan, 59, who was confronted by machete-wielding intruders, "did what he believed necessary" to defend his home in Pendlebury, the CPS ruled.
John Bennell, 27, of Hyde, died following the stabbing on 22 June.
Three men from Greater Manchester, aged between 23 and 27, have been charged with aggravated burglary.
Nazir Afzal, chief crown prosecutor for the North West, said: "I am satisfied that Peter Flanagan acted in self defence after being woken by noises downstairs in his house shortly before midnight.
"On investigating the disturbance he was confronted by intruders, one of whom was armed with a machete."
'Frightening circumstances'
He said in reaching his decision he looked at the police evidence and CPS policy on householders and the use of force against intruders.
He had to ask himself whether "the use of force was necessary and whether it was reasonable in the circumstances", he said.
"People are entitled to use reasonable force in self-defence to defend themselves, their family and their property," he said.
"All the evidence indicates that in the frightening circumstances that he faced, Mr Flanagan did what he honestly and instinctively believed was necessary to protect himself and his home from intruders."
Ch Supt Kevin Mulligan, of Greater Manchester Police said the force had made the "right and proper decision" to arrest Mr Flanagan, and his son and son's girlfriend, who were earlier released without charge.
'Clarifying law'
"We had a duty of care to John Bennell's family, the occupants of the house and to the coroner to fully investigate this death to determine whether or not it was a criminal act or one of self-defence," he said.
"I am satisfied that we provided the full facts of the case to the CPS and I respect their decision."
Mr Bennell's death came days after Prime Minister David Cameron vowed to bring in stronger measures to protect homeowners defending themselves and their property.
A spokesperson for the Ministry of Justice said: "The law already allows a person to use reasonable force in self defence, but we are looking at ways of clarifying the law so people are clearer about what this means in practice."
The BBC understands amendments will be tabled to the sentencing bill which is currently before Parliament.