Salford £115m new homes scheme approved by government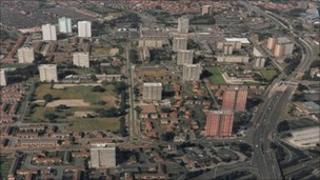 A multi-million pound regeneration scheme to build 1,600 new homes in Salford has been given the go-ahead by the government.
Housing Minister Grant Shapps has signed off the next stage of the £115m investment programme for Pendleton.
Salford City Council said that a further 1,200 existing homes would be improved.
The council is drawing up a full business plan for delivering the scheme for the next government approval stage.
It said a developer would be chosen in the next few months.
Councillor Peter Connor, Salford City Council's lead member for housing, said: "Our plan for Pendleton will give residents a better choice of affordable housing and we're pleased the government supports us in what we're trying to achieve.
"There is still lots to do but this news allows us to move to the next stage, which is to submit further plans to the government so we can move to financial close and start work."
Leader of Salford City Council John Merry said: "This review compared many private finance initiative projects, so for the government to choose to support us shows our plans are very well thought out and good value for money for the people of Salford."