Scrapped Nimrod project: BAE site consultation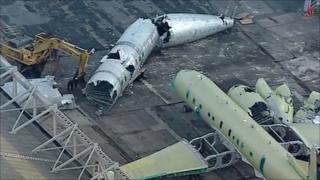 People living around the BAE Systems site in Greater Manchester are being asked what should happen to the land.
The site is to close in March 2012 with the loss of about 200 remaining jobs, after the government cancelled the Nimrod aircraft project.
Stockport Council said about 103 acres of the 500-acre site, which spans the Cheshire border, could be developed.
Leader Dave Goddard said it would be the largest release of land in the North West of England for 50 years.
A public exhibition programme has been started to ask people their "views and aspirations" for the site, most of which falls on the Stockport side of the border.
Defence review
Councillor Kevin Hogg, member for regeneration, said: "The redevelopment of the Woodford Aerodrome site is a significant issue for local people and we are determined to work alongside residents to ensure the best possible future for the site, as well as for existing communities.
"The next step is to talk to local people and develop a vision for the area which balances a range of different issues."
Work on the scrapping of the multimillion-pound Nimrod aircraft was carried out at the start of 2011.
The project was ditched by the government in the Strategic Defence and Security Review (SDSR) and is claimed to save the Ministry of Defence an estimated £2bn over the next 10 years.
The council said it was working with both BAE and Cheshire East Council over the redevelopment of the site.
Its first exhibition and public meeting was being held in Woodford on Tuesday.