Afghanistan TA medics parade through Bury town centre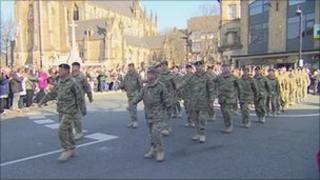 Territorial Army (TA) medics who spent four months tending the wounded in Afghanistan are parading through Bury to thank the public for their support.
The 44 members of 207 (Manchester) Field Hospital (Volunteers), based in Stretford, arrived back in the UK from Camp Bastion in January.
The unit is made up of doctors, nurses and paramedics who usually work across the north-west of England.
On Sunday, celebrations began with a medal ceremony at Bury TA centre.
Members of the unit were then attending a service at Bury Parish Church before setting off on the parade through the town centre at about 1230 GMT.
207 (Manchester) Field Hospital is one of 11 TA units whose main role is to provide medical support to UK Forces on operations overseas.