'Tough times' for building sector, say industry experts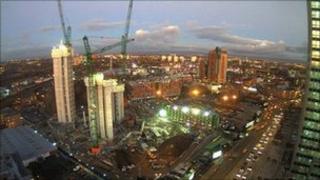 The construction industry will be hit harder in the North West than the rest of the country, say experts.
In its latest report, the Construction Skills Network (CSN) predicted "tough times" ahead over the next four years.
However, the training body said the expansion of Metrolink and the building of the Co-operative Group headquarters would play a key role in keeping the industry afloat.
Building work in the region is expected to shrink by 0.6% per year until 2015.
The construction industry currently employs more than 260,000 people in the UK.
Despite seeing higher than predicted growth in 2010, CSN said building work was expected to contract nationally by 1% during 2011.
'Really important'
The report does, however, predict steady growth between 2013 and 2015.
In the North West, it is thought the construction industry will be slower to recover and will continue to shrink until 2015.
However, Steve Housden from CSN said one ray of hope was the ongoing work to expand the Metrolink network to Rochdale, Oldham, Didsbury, Ashton-under-Lyne and Manchester Airport.
"There is still an awful lot of work going on," he said.
"[Metrolink] is a major part of the growth in the infrastructure sector that we are predicting over the 2011 - 2015 period."
Another major building project is the new £100m Co-operative Group head office in Manchester city centre - the UK's largest construction site outside the south east.
The 15-storey building will add an extra three million square feet to the group's existing headquarters at the neighbouring CIS Tower on Miller Street.
David Pringle, from the Co-operative Group, said the project was "really important" to Manchester, bringing 10,000 jobs to the city centre.
"It shows the confidence the group has for its future," he said.
"We've been here for 150 years and we intend to be here for the next 150 years.
"From our perspective, it's the right time to build it and it's the right time to invest in this part of Manchester."