Salt imported from Peru for Rochdale roads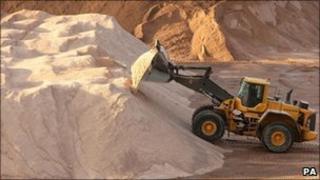 A council based 45 miles (72km) away from the UK's biggest salt mine said it was forced to import grit from Peru to guarantee it could clear its roads.
Rochdale Council bought 3,000 tonnes of salt from the South American country after concerns that grit levels could fall critically low this winter.
The price was "comparable" with local sources, the authority said.
Salt Union, which runs the Cheshire mine, said it had been working hard to fulfil the needs of customers.
The site in Winsford can produce about 30,000 tonnes of crushed rock salt every week and has been mining seven days a week since December 2009.
A council spokesperson said the decision to import the grit - which travelled about 6,000 miles (9,656km) to reach Greater Manchester - ensured they met their gritting policy.
Huge demand
"Due to external national factors beyond our control, which affected the salt supply from local sources, our highways partner Impact Partnership, through its contractor, Balfour Beatty, approached other salt suppliers to ensure we could continue to grit in line with our policy," said a spokesperson.
"Subsequently, Balfour Beatty was able to source salt originating from Peru.
"The price was comparable with the proposed charges from more local sources, but importantly it came with a guaranteed delivery.
"Throughout the winter period we have carried out our gritting as per our policy and procurement of this additional salt has been an important factor in enabling us to do so."
Last winter, grit supplies ran low at councils across England and Wales during prolonged freezing temperatures.
In summer 2010, Salt Union said it had been faced with unprecedented demand for supplies from councils looking to stockpile grit for the 2010-11 winter.
"Salt Union has worked hard to meet the needs of our customers and replenish depleted local authority stocks across the country," said a spokesperson.
"Salt Union has been fulfilling orders as fast as possible to ensure customers have appropriate salt stocks for the winter months and we have continued to mine seven days a week since December 2009.
"These stocks will also be supplemented throughout the winter.
"In addition, Salt Union has invested £4m to £5m in mining machines, processing equipment and storage facilities as part of a number of steps to improve the security of the nation's salt supplies."