Flooding closes World War Two bunker in Uxbridge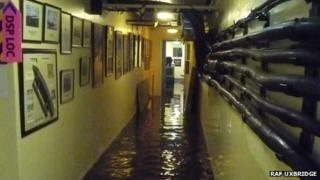 A World War Two bunker has been closed temporarily to visitors following flash flooding in west London.
The Battle of Britain bunker in Uxbridge has been forced to cancel visits after the building was filled with water up to 3ft (0.9 m) deep.
One volunteer said it could take up to several weeks to reopen.
Heavy rain in north-west London on Monday stranded cars in Ruislip and Harrow and temporarily closed roads in Uxbridge.
Volunteer guide Bob Jeffries said the bunker would be closed to visitors until they could assess the damage.
"We have already pumped out the water but then we have to get the humidifiers in to dry it and make sure the floor is safe to walk on," he said.
"Fortunately all of the historic parts of the building are slightly raised and luckily they have not been damaged."
The bunker housed the Fighter Command No.11 group operations room throughout World War Two, where the air defence of London and South East England was planned.