London ban for 'unsafe' lorries considered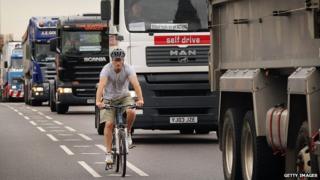 Large lorries without safety equipment could be banned from London's streets under proposals from the city's mayor.
A public consultation has been launched into a scheme which would require any vehicle weighing more than 3.5 tonnes to have side guards and extra mirrors.
Nine of 14 cyclist deaths in London in 2013 involved heavy good vehicles (HGVs).
London Mayor Boris Johnson said he had "long been worried" by deaths involving a lorries without safety equipment.
'Safer streets'
He said: "My Safer Lorries Scheme would see those lorries effectively banned from our streets and the lives of thousands of cyclists and pedestrians would be much safer as a result.
"Vehicles that would be affected by this scheme can easily be retro-fitted to comply and doing so will save lives."
The side guards would protect cyclists from being dragged under the wheels in the event of a collision, while the mirrors will give drivers a better view of cyclists and pedestrians around their vehicles, the proposals said.
The planned ban would cover the same area as the London low emission zone, which includes most of Greater London and would be enforced using civil enforcement officers.
Subject to approval by the Department for Transport, CCTV cameras would also be used to monitor HGVs.
Transport for London announced the consultation would close on 22 September and, depending on the outcome and legal procedures, the ban could start by early 2015.
Ray Engley, head of technical services at the Road Haulage Association, said the vast majority of vehicles already complied with the proposals and new legislation meant that many would be required to change.
"We know that all vehicles from October this year will be compliant and the vast majority of the UK fleet has already compiled with these requirements," he said.
"Just certain vehicles have been exempt, including tipper trucks, refuse vehicles and cement mixers."