Arsenal challenge to limit on Emirates concerts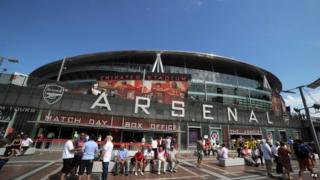 Arsenal Football Club has launched a High Court challenge over the number of concerts it can hold at its Emirates Stadium in north London.
The club is limited to holding three concerts a year but wants this doubled to six.
Arsenal said a "clear error" had been made by a planning inspector involved in the case.
Opponents of Arsenal's plans have expressed concern over noise and rowdy music fans.
'Wrong balance'
Concerts have been held at the Emirates for the last six years, featuring artists such as Bruce Springsteen, Coldplay and Muse.
Islington council rejected the club's request to hold more gigs at the stadium and in January a planning inspector rejected Arsenal's appeal.
The inspector said the club could not plead poverty if it could afford to buy a player like German midfielder Mesut Ozil for £43 million from Real Madrid last summer.
Andy Hull, councillor for Highbury West, said the authority refused Arsenal's application "because it struck the wrong balance" between the local community and the club's commercial interests.
Mr Hull said: "Rather than wasting everyone's time and effort with endless appeals about these gigs, Arsenal should engage constructively with us on a range of pressing local issues, from where to park fans' coaches to how to pay their match-day staff a living wage".
'Compete with rivals'
Applying for judicial review, Dan Kolinsky representing the club told Mr Justice Cranston the inspector's decision was legally flawed and should not be allowed to stand.
Mr Kolinksy said the inspector had failed to apply the law correctly when he decided the proposal to double the number of concerts "did not accord with the development plan" for the stadium.
He said there was "a clear error on the face of the decision letter".
Lawyers for the planning inspector and Islington council are arguing the inspector followed the correct approach and there is no substance in the club's challenge.
During a public inquiry carried out by the inspector, Ken Friar, Arsenal's chief executive director, said the club needed money from the concerts to compete with its football rivals, citing the example of Manchester United's profits of £100 million compared to Arsenal's £20 million.
Islington council said it was concerned about noise and disturbance affecting residents and the impact of closed roads and local tube stations being exit-only.