Heathrow Express workers strike gets underway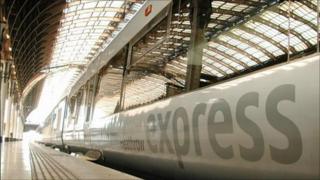 Rail workers on the Heathrow Express service have gone on strike in a row over cuts.
Members of the Rail, Maritime and Transport (RMT) union walked out for 24 hours from 03:00 BST.
The RMT claims plans to save £6m over five years would threaten 200 jobs and affect conditions. Heathrow Express said the strikes were "self-defeating".
The company said it would run regular trains between Heathrow and central London despite the walkout.
However, Heathrow Connect services between Paddington and the airport will not run because of the industrial action.
The strike is taking place on the same day the airport's revamped Terminal 2 opens.
It is the third time in recent weeks that RMT members have taken industrial action over the proposals.
'Cheap publicity'
Keith Greenfield, managing director of Heathrow Express, said: "Strikes are self-defeating because they add to the £6m we need to save over the next five years in order to secure our future and jobs for our people."
He added that he and others would be "jumping into frontline roles" to ensure that services continued running.
The RMT said that Heathrow Express was misleading the public over the level of service that would be available during the strike.
Mick Cash, acting general secretary of the RMT, said: "If the senior management spent as much time addressing the serious safety concerns over the halving of staff numbers that is at the heart of this dispute as they do in dressing up for cheap publicity stunts we might be able to make some real progress."
The Heathrow Express service connects the west London airport to London Paddington Station.