John Terry's father Ted cleared in racial abuse trial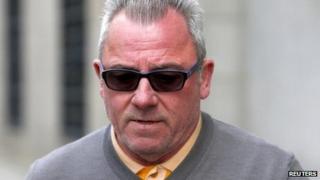 The father of former England football captain John Terry has been cleared of racially abusing a man in a dispute over a cigarette.
Ted Terry, 59, was accused of attacking Amarjit Talafair in London last March and using threatening and racist language, including the word "Paki".
Mr Terry, of Grays, Essex, and Mr Talafair had a row over a cigarette, the court was told.
He denied using racist language and headbutting the man outside a pub.
'It was stupid'
Mr Terry, a decorator, was cleared of one count of racially-aggravated common assault and one count of racially-aggravated fear or provocation of violence.
Following the verdict Mr Terry, whose son is captain of Premier League leaders Chelsea, said he was "relieved".
"It's been a hard year for all of us. We all felt it was nothing, really. It was stupid.
"I'm just going home and I'm going to phone John up."
His colleagues, Stephen Niland, 36, of Quarles Park Road in Romford, Essex, and Moldova-born Tudor Musteata, 47, of Tarves Way in Greenwich, south-east London, were also found not guilty of racially-aggravated fear or provocation of violence by the jury.
During the trial the prosecutor suggested Mr Terry "becomes aggressive in a heartbeat" and at the "most trivial trigger", a claim the 59-year-old denied.
The jury also heard he was fined £200 after admitting a racially aggravated public order offence relating to a separate incident at Barking railway station in May last year.
Giving evidence in his defence Mr Terry said his son's fame meant he was often taunted by people.
He said: "People say 'look that's John Terry's dad over there' and come up to ask things, or they might come up to and have a go and say 'your son can't play football', but you just have to take it and walk away."
Going to the press
He also told the court his son's fame or people's reactions had nothing to do with the incidents in March or May.
Mr Niland said he had been celebrating his birthday at the Windsor pub near Fenchurch Street when the row broke out.
Mr Talafair, who admitted calling Mr Terry fat and bald during the row, told the jury that he was not injured by Mr Terry's alleged headbutt as he was able to get out of the way in time.
The jury heard the complainant, who researched Mr Terry online, had also asked police officers about taking his story to the press, but was discouraged.