Bob Crow: Never one to dodge contentious questions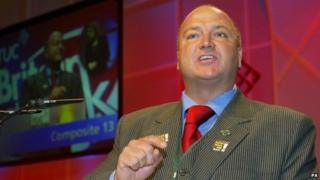 I interviewed Bob Crow many times. And he wasn't actually at all like his public image.
Often he'd mention the weather or the football before the recording.
He was always polite and without fail he answered the contentious question.
And there were many of those contentious questions.
Usually the question was about an impending Tube strike or the huge disruption his union had caused with a strike.
Some questions were about pay. Some were about union concerns over safety.
The most recent interview I did, not long ago, was over driverless trains on the Tube, when he simply said: "We're not having it".
'Cobblers'
At a press conference recently, the media were told not to ask questions about a cruise holiday Bob Crow had been on. That didn't last long.
By the end he was calling the media coverage of his holiday "cobblers" while holding aloft an advert for the holiday.
In a similar way he was unapologetic about defending his members and controversial decisions.
I lost count of the number of times he got above inflation pay rises for his members.
So where does it leave the RMT and its influence on London transport?
Well, it was always the executive ultimately who made the decisions - however I'm told Bob Crow was like the glue that kept that union and the different views working together.
Bob Crow's legacy is that the number of RMT members has increased to around 80,000.
So whoever is elected general secretary, that union will still have a strong voice in London Transport.