Domenico Rancadore: Sicilian Mafia man case adjourned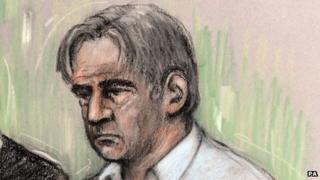 The extradition hearing for a convicted Mafia boss wanted on a prison sentence in Italy has been adjourned.
Domenico Rancadore, 64, was arrested in Uxbridge in August where he was living with his family under an assumed name.
He was found guilty of Mafia association and extortion in Italy in 1999 and given a seven-year jail term, but he had left the country in 1994.
The case at Westminster Magistrates' Court has been adjourned until 17 March.
'Inconsistent' evidence
The Italian authorities accuse Rancadore of fleeing Italy as he faced trial over his alleged Cosa Nostra "man of honour" connections.
Previously his counsel Alun Jones QC told the court that "misrepresentation goes to the heart of this extradition case".
He said there were two European arrest warrants issued for Rancadore, under the name of Marc Skinner, last August but the level of crime was elevated in the second which was a "deliberate decision taken to prejudice this man's rights".
On Friday Mr Jones said: "If you can't trust a warrant then the integrity of the scheme is undermined."
Prosecutor Hannah Hinton told the court the evidence heard was "inconsistent" and Rancadore had given "conflicting accounts".
Rancadore, who was known as The Professor in his native Sicily, moved to London in 1994 with his wife and two children under the family name of Skinner.
It was previously heard that he fled Italy because he wanted "a normal life" for his family and had "cut every tie" to his past.
Rancadore is currently in custody after the High Court overturned a magistrate's decision to grant bail him in November.