London food bank use up by 394%, new figures suggest
21 February 2014

From the section

London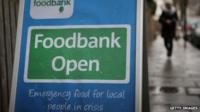 The number of people in London visiting food banks has increased by 394% in the last two years, new figures suggest.
A London Assembly Labour group report said in 2011-12 there were 12,839 visits to Trussell Trust food banks in London, but from April 2013 to December 2013 the numbers rose to 63,367.
The report recommended the introduction of free school meals for all primary school children.
The London mayor said he was supportive of universal free school meals.
'Alarming rate'
In the first eight months of this financial year, 24,510 children visited food banks, according to the Trussell Trust figures.
The Cost of Living Report said that 65% of Londoners were concerned with the rising cost of food and 66% supported the introduction of free healthy school meals for all primary school children.
London Assembly Member Fiona Twycross, who wrote the report, said the use of food banks was increasing at an "alarming rate".
"It is time the Mayor took concerted action to address this problem. It is a scandal that people cannot afford to feed themselves or their families in modern London," she said.
"The use of food banks continues to increase at an alarming rate thanks to the continued squeeze on living standards."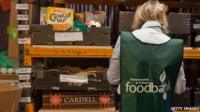 Estimates suggest that the introduction of free school meals for primary schoolchildren would require an investment of £58.7 million by the Mayor of London, the report said.
The Labour group also recommended a pilot of universal free school meals for secondary schoolchildren.
In addition, the group has asked school governing bodies to look at ensuring that free breakfasts and after-school cooking activities were available to pupils who required them.
A representative of Boris Johnson said: "The Mayor is supportive of universal free school meals, believing they can help raise educational attainment and improve the health of young Londoners.
"He is working with the government to encourage the uptake of school meals services, including funding two London boroughs to develop flagship projects."