London Ambulance Service to recruit from overseas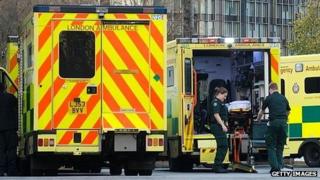 The London Ambulance Service (LAS) is to recruit paramedics from overseas for the first time in a bid to fill empty posts.
A spokesman for the LAS said it had 250 vacancies for registered paramedics.
He said Australia and New Zealand would be targeted as skills and training there closely match those in the UK.
He added the LAS had gained approval from the UK Border Agency to sponsor 100 work visas a year for non-European paramedics.
The service currently has 1,810 paramedics, with another 150 in training.
The LAS's Mark Whitbread said it could take up to three years for people entering the profession to qualify as a paramedic.
He said year-on-year increases in demand and a need for "more registered healthcare professionals responding to patients means we are in need of a greater number of paramedics".
"The same applies for other ambulance trusts across the UK, but there is only a finite number of registered British paramedics."
He added that paramedics recruited from overseas would undergo a short conversion course before they began treating patients.