Prince Charles meets couple who lost home in riots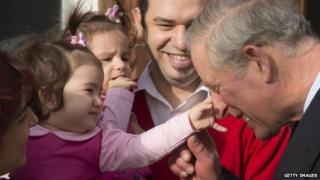 The Prince of Wales returned to Tottenham in north London and met with a couple who lost their home when rioters set fire to the Carpetright building and flats above it.
The dramatic pictures of the Tottenham landmark glowing red hot was a striking image of the August 2011 riots.
Charles sympathised with Mehmet and Burcin Akbasak near the rebuilt building.
It was Prince Charles' fourth visit since the riots.
Mr Akbasak, 33, who is originally from Turkey, described the experience of fleeing from his home during the riots: "It was a nightmare. It was horrible. We lost everything.
"I escaped with one of my neighbours and we went to his office and watched the building burning on telly. We realised we could not return.
"I was a graphic designer and photographer before the riots, I was always into aviation and my childhood dream was to become a pilot so I decided to change career - you don't know what's going to happen in the future."
He said the prince had wished him luck.
A number of Prince Charles' charities and organisations are helping with the borough's regeneration, including an enterprise programme, run by the Prince's Trust, which provides training and mentoring for young people wanting to start their own businesses.
One of his Prince's Trust alumni Gina Moffatt, 36, from Tottenham, is a former drug offender who went to prison but is now running a cafe and florist shop.
She praised the help she had received from the Trust: "I didn't have a dream.
"I thought I would spend the rest of my life on benefits street. But now I have a dream and a legacy."