London Zoo plans £5.7m boost to pride of Asiatic lions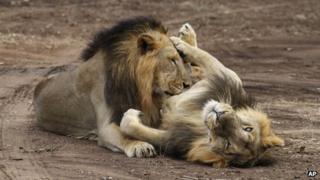 London Zoo is planning a £5.7m project to increase its pride of Asiatic lions.
As part of an international effort to save the species the zoo wants to increase its number of lions from five to 12 by extending its enclosure.
About £1.5m has already been raised but the official fundraising effort will start on 21 May with a gala event called Safari in the City.
The zoo is planning an exhibition on the species in 2016.
The plan is part of London Zoo's conservation work in India to help boost the species' dwindling numbers.
Asiatic lions have been almost wiped out in India but conservation efforts by the western state of Gujarat during the past 50 years have saved them from extinction.
There are thought to be as few as 400 Asiatic lions in Gujarat's Gir forests.