Hammersmith 'Flyunder' plan views sought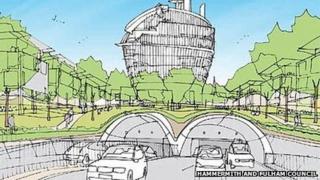 Councillors are calling for residents' views on whether Hammersmith Flyover should be replaced with a "flyunder".
Referred to by Hammersmith and Fulham Council as a "terrible act of vandalism", the 50-year-old flyover is generating "escalating" maintenance costs, according to the council.
The council and a group of architects are proposing to replace the flyover with a tunnel.
Selling highway land for development is one option to fund the scheme.
'Dramatically improve'
The flyover, which is used by about 90,000 vehicles each day, was closed for five months in 2011 while repairs were carried out to cables that had been eroded by salt water, causing widespread traffic congestion.
Councillor Nicholas Botterill said: "The Hammersmith Flyover is a hangover from another era that should never be repeated.
"Hammersmith and Fulham is uniting behind a tunnel replacement, or flyunder, as it would dramatically improve the quality of life for thousands of west Londoners and be a game changer for Hammersmith town centre."
Initial findings of the council's investigation into options to bury the flyover will be presented at a transport select committee on 12 February.
The council wants residents to submit their views on its website.