Domestic abuse raids: More than 300 arrested in London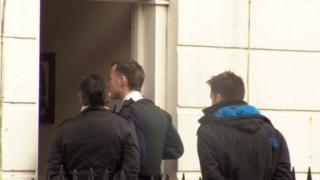 More than 300 arrests have been made by police in a series of raids against domestic abuse offenders across London.
Mor than 4,500 officers are targeting suspects as part of Operation Dauntless, to reinforce Scotland Yard's "intolerance" to domestic abuse.
The force said it expected more arrests to be made by midnight when the operation ends.
An awareness campaign is also taking place across London, including information stalls in shopping areas.
Rise in offences
Commander Christine Jones said: "These aren't people we could have arrested yesterday, these are ones that we haven't been able to track down and we continue to do so.
"They [the victims] often don't realise what's happening until they take a stand back, but someone outside can often see it and if you suspect you've seen it [abuse] then please contact us.
"I don't want people to think that this is only a crime against women. We do deal with female domestic abusers, it's about controlling relations and that isn't always gender specific."
Commander Jones added that one man was arrested earlier in Islington after a woman contacted police last night to say she had been stalked over the past 20 years.
Statistics from the Metropolitan Police show that recorded domestic abuse offences have increased by 8.9% over the past year.
Between 1 April 2013 and 12 January 2014, 37,349 offences were recorded compared to 34,298 offences recorded for the same period in 2012/13.
It added that a proportion of this increase was because the definition of domestic abuse had been expanded to include 16-year-olds.