Lost Tube tourist Vasile Belea found safe and well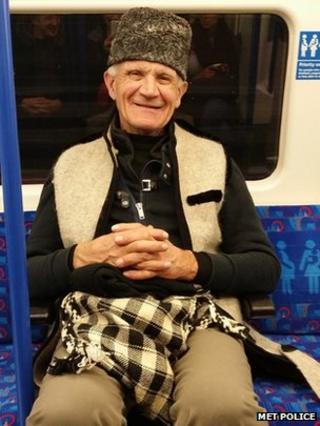 A 63-year-old Romanian tourist who vanished after becoming separated from his son on the Tube has been found safe and well.
Vasile Belea, who was visiting London for the first time, was last seen at Stockwell underground station in south London on Tuesday morning.
He was found in the Southall area of west London at around 22:45 GMT on Friday.
He has been reunited with his family, the Metropolitan Police said.
Mr Belea was travelling into central London with his son but they became separated on the northbound Victoria line platform when the younger man got on to a train, and the doors closed before his father could join him.
He speaks little English, was not carrying any medication for his arthritis, and had a mobile phone but no SIM card.
Mr Belea, who had an Oyster card and some money when he went missing, had come to the UK to spend Christmas with his son.
His daughter-in-law Olympiia Belea said he saw his photo in the Metro newspaper and then went to police.
"He is absolutely fine," she said. "Everyone he met was very kind to him but they didn't realise he was a missing person."