Max Earley inquest: Doctors' errors led to boy's death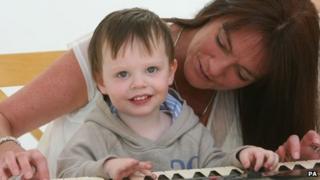 A two-year-old boy died of a brain tumour after after a series of errors by doctors, a coroner has ruled.
Max Earley died in September 2012 after doctors missed opportunities to diagnose him.
An inquest at Westminster Coroner's Court heard that his mother "watched him die" as doctors struggled to diagnose his condition.
His parents said: "We did our best for our child but there were times when we weren't listened to."
Max, who was 27 months old when he died, first fell ill in August 2012 when he began vomiting constantly.
He was admitted to Hillingdon Hospital in Uxbridge, west London, where a CT scan was carried out amid fears he might have a brain tumour.
'Scan on hold'
But the scan was missed by a consultant radiologist and as another test showed up a potential hernia, Max was transferred to London's Chelsea and Westminster Hospital, where doctors searched for a possible gastro-intestinal cause of his illness.
An MRI scan which would have shown the tumour, was "put on hold" while doctors looked at possible gastric problems.
After being allowed home, Max was readmitted to Chelsea and Westminster and his condition steadily deteriorated.
On 23 September, he was rushed to Great Ormond Street, where the tumour was finally diagnosed but despite emergency surgery to remove some of it, Max never recovered and he died four days later.
At the inquest, coroner Dr Shirley Radcliffe recorded a narrative verdict.
She said if the tumour had been removed right up until Max deteriorated, "on the balance of probabilities, (it would have) resulted in a good chance of cure".
The coroner added that both Hillingdon and Chelsea and Westminster hospitals had made changes to their radiology processes to ensure similar circumstances were not repeated.
In a joint statement, Max's parents Carole and Vladimir Earley, from Harefield, near Hillingdon, said: "We are at a loss to understand how in a modern healthcare system Max's brain tumour was not properly identified for a month since it was first suspected.
"In that time Max had got weaker and weaker, he lost weight and must have been in terrible pain at times.
"He was too young to tell us how he was feeling and we are saddened beyond words that we could not help him despite having placed him in the hands of the doctors."