Li Hua Cao murder: Robert Ekaireb jailed for killing pregnant wife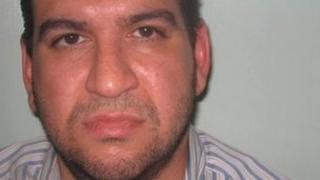 A man has been jailed for life for murdering his pregnant wife who went missing seven years ago but whose body has never been found.
Multi-millionaire Robert Ekaireb, 38, lived in Hampstead, north London, with Li Hua Cao, 27, who worked as a dancer and waitress in London's Chinatown.
She was four months pregnant when he killed her during a row in October 2006, the Old Bailey heard.
Ekaireb, estimated to have a fortune of £65m, must serve a minimum of 22 years.
The property entrepreneur was also ordered to pay costs of £120,815.05.
In sentencing, judge Nicholas Cooke said: "This was the murder of a pregnant wife - in that sense you ended two lives.
"I accept that this is a case of no evidence of pre-meditation. It was also a case of extreme domestic violence.
"The evidence is this case exposed you as a callous, manipulative and selfish hypocrite."
Lie detector
Police said Ekaireb, of Hendon in north London, disposed of her body and "carried on with his life".
His wife, who was also known as Li or Lisa Ekaireb, was reported missing in February 2007 by her family in China, who travelled to the UK for the trial. She last contacted her brother in Denmark in October 2006.
Ms Cao left China in 2002 and until 2006 worked as a waitress and lap dancer in Dublin, where she met Ekaireb.
She moved to London to marry and lived in the exclusive Mount Vernon development with her husband.
Ekaireb had been arrested for assaulting his pregnant wife and possession of a flick-knife in August 2006.
He was charged, but Ms Cao withdrew the assault allegation and Ekaireb was convicted of the knife offence.
Police said Ekaireb had booked a lie detector test for her in October 2006 and probably suspected that she was still working as a dancer behind his back.
Ability to grieve
Her brother, Li Bin Cao, was in court for the verdict but declined to comment after sentencing.
In his witness statement, on behalf of his family, he told the court: "We will never understand why he (Ekaireb) killed Li Hua. She was a social, loving, warm person.
"We will never see her alive again, and even in her death she is missing. We don't know how to move on with our lives with no Li Hua to bury."
The court heard the death had a particularly profound effect on the victim's mother in China, while the family were so fearful of what the news would do to the health of her grandfather that he is yet to be told.
The judge said: "When there is no body, the bereaved will suffer agonies of false hope.
"They are left, potentially permanently, without the ability to grieve in the way the family of those with the body returned to them can grieve."
Michael Skelley, who defended Ekaireb said he had a long-term partner, a two-year-old child with another baby on the way, and described the death as a double-tragedy.