Band's instruments returned for London New Year parade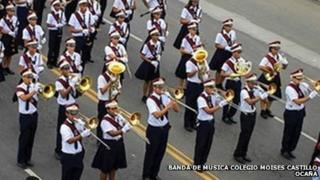 More than 70 instruments seized at Heathrow Airport have been returned to a Panamanian marching band leading London's New Year's Day parade.
Instruments including tubas were seized on Friday due to incorrect paperwork.
Dan Kirkby from the parade team said: "It's [the parade] been saved and a thousand thanks to all those officials at Heathrow who processed it."
It will be the first time Banda de Musica Colegio Moisés Castillo Ocaña has performed in Europe.
'Storm-lashed London'
Mr Kirkby said: "The instruments arrived via Amsterdam and there was a problem with the paperwork.
"The equipment has been released and they're going to be taking it this afternoon to the hotel where the performers are staying.
"They can't perform in a warm-up event [today] but it's [the main parade] been saved.
"The band have been preparing for a considerable time and they've raised a lot of money to give storm-lashed London a lift."
Banda de Musica Colegio Moisés Castillo Ocaña, from the city of Chorerra, will lead the parade at noon on 1 January from outside The Ritz Hotel.
It will then follow a route along Piccadilly, Lower Regent St, Pall Mall, Trafalgar Square and Whitehall before finishing in Parliament Square.
Organisers said more than 500,000 spectators were expected to line the streets for the event.