Enfield poison brook plan 'successful' despite residents' concerns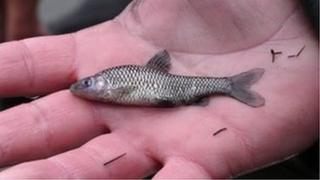 Poisoning a brook in north London to eradicate an invasive species of fish have been "successful", the Environment Agency has said.
Rotenone was poured into Enfield's Cuffley Brook to kill the Asian topmouth gudgeon, but the poison also killed all other fish in the water.
Residents said they were "angry" about the action and said there was insufficient consultation carried out.
The agency said it held a public meeting prior to the treatment.
Rotenone has previously been used in lakes and ponds but Cuffley Brook was the first time it was used in flowing water.
The treatment eradicated all species of fish including roach, eel, minnow, stickleback and stone loach.
Resident and campaigner Jill Simpson said: "I think it's awful, why do they have to poison it? Why can't they let nature take its course?
"I can't really find any evidence to stop them doing it in ponds and lakes because the species proliferates in those, but it doesn't within rivers and streams.
"A small brook like this is not the place to do a test case for bigger areas, its taken 20 years for the eels to come back and now they have all been killed."
The agency said it would monitor the brook to see the effect rotenone has in flowing water and it had managed to relocate several large eels downstream before the treatment started.
It added it was yet to make a decision on whether the brook would be restocked.