Nigella Lawson PA says Oprah interview 'not correct'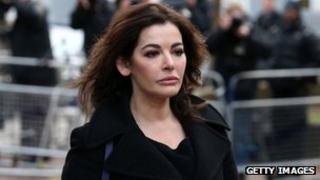 Claims that Nigella Lawson will go on Oprah Winfrey's TV show after a fraud trial have been rejected in court.
A lawyer told Isleworth Crown Court the TV cook would be interviewed by the chat show host in January.
However, Ms Lawson's PA, Anzelle Wasserman, said reports of the interview were "not correct".
Sisters Francesca and Elisabetta Grillos deny fraudulently using Ms Lawson and her ex Charles Saatchi's business credit cards.
Taken cocaine
The Grillos' defence team claims the pair, of Kensington Gardens Square, Bayswater, were given permission to use the business cards by Ms Lawson to cover her use of drugs.
Ms Lawson has previously told the court she had taken cocaine and cannabis, but was not an addict.
Cross-examining Ms Wasserman, defence barrister Karina Arden told jurors Ms Lawson was going to be interviewed by Ms Winfrey after the trial.
"You know, don't you, that Miss Lawson has signed an exclusive agreement with Oprah Winfrey in January?" Ms Arden asked.
"That's not correct," Ms Wasserman said.
Ms Arden said Ms Wasserman had "come to court partly to save, as you perceive it, Miss Lawson's reputation".
"I'm here to give witness evidence about the trial of the Grillos because I worked for them for so long, and that is why I'm here," the PA said.
'Generous' employer
Further details of the former couple's spending was read out in court.
Jurors heard Ms Lawson spent £54,552 at Donna Karen between 2008-12, and the most than £7,500 was spent on a custom made sofa.
Another personal assistant Zoe Wales, said she had worked for Ms Lawson for nearly 13 years.
She said she had three credit cards and a debit card given to her which were to buy "household items principally".
Asked by prosecutor Jane Carpenter if she ever used them for other things, Ms Wales told the court: "Only if I was given explicit instruction that I was allowed to do so".
She agreed Ms Lawson was a very generous employer, who had allowed her to bring her baby to work and buy necessities for the infant.
The case continues.