Newham College students 'never sat courses they passed'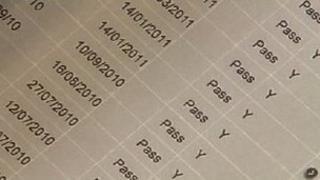 A college in east London has received large sums from the government by awarding qualifications to students who say they never took the courses.
Further education colleges are paid by the government for each student who actually completes a course.
But a BBC London investigation into Newham College has revealed evidence of anomalies over reported pass rates.
The college says it takes the allegations seriously and will look into the issue.
Newham College was already under the spotlight after a secret recording of lecturer Mark Walcott came to light, in which he made apparently homophobic statements.
Now numerous ex-lecturers there have contacted the BBC, alleging qualifications were awarded to students who did not actually attend courses.
One lecturer said: "When students didn't turn up, we tried to have them withdrawn from the class.
'Impossible attendances'
"We approached management, but nothing happened.
"Then we noticed that students who had more or less no attendance were suddenly achieving [qualifications] on their programme."
He described this as "impossible" by legitimate means.
When a student passes a Level Two or Level Three course (equivalent to either a GCSE or an A Level), a college is typically paid £3,000 from the government.
BBC London has obtained details of the attendance rates and academic achievements of 92 students at the college's East Ham campus.
Of those 92 students:
• 50 achieved a pass (Grade A-C equivalent) with less than 40% attendance.
• 28 achieved a pass with less than 20% attendance.
• 17 achieved a pass with less than 10% attendance.
Newham College's own guidelines state that an 85% attendance rate is the minimum expectation.
Educational statistics expert Professor John Howson said: "There is clearly a prima facie question here that needs answering.
"If a college has fairly low attendance rates it is difficult to see how the success rate for those courses is as high as it is.
"There's almost certainly a minimum threshold you need to attend to pass."
College records show two students achieved a Level Two pass with a 0% attendance rate.
Mr Howson said he had almost never seen 16 to 18 year olds pass such exams with attendances of under 10%. He called for an immediate external investigation.
One lecturer said: "Minimum attendance would have to be around 60% or they just couldn't do all the work needed to pass. It's all classroom based - they had to be there."
The lecturer said pass rates were verified externally once a year - but because of the volume of students verifiers only took a "snapshot".
He explained: "Out of a class of 30 you would only give them four pieces of work. Once signed off, that's it.
"Then anyone can literally tick any box to say a student has passed a course."
The BBC has now traced four former students who are recorded as having passed qualifications they insist they never sat at all.
One of those student's records show he took, and passed, exactly the same IT course three years in a row - at a cost of £3,000 per year.
He was unaware that he had passed the course for the second and third time until contacted by the BBC.
The student said: "I did that course for only one year. Why would I take it again and again?"
Another student's records show he passed more than a dozen qualifications in three years. The student was under the impression that he had received just one justifiable qualification from the college.
The BBC has also seen an all-staff email of protest sent within the college in July. It read: "No student is allowed to be withdrawn or fail on any course.
"Even students we have never seen seem to appear to have achieved their course.
''We offer courses that can be easily manipulated for achievement and have no potential employable value whatsoever."
The then principal Denise Brown-Sackey responded in another all-staff email, calling the claims "defamatory, libellous and inaccurate".
'High-performing'
Ms Brown-Sackey has taken a leave of absence from the college while the institution's response to the homophobia allegations is investigated.
A spokesman for Newham College said, "As a high-performing and well-regarded college, we take any allegation of malpractice very seriously, and we are keen to investigate any issues raised with us by the BBC and others.
"Given the understandable complexity of the data requirements for further education colleges, and the small number of students the BBC appears to be referring to, it is very difficult for us to investigate or comment further at this stage."
He went on: "We are proud of our reputation at Newham College. Our external validation, of which we are also proud, does not come by accident. This includes a recent Ofsted inspection which judged us to be a good college.
"Like any high-performing and complex organisation, we are constantly seeking to improve what we do ever further. We are keen to investigate any concerns raised with us, and if the BBC chooses to share its full data and evidence with us, we will pursue matters robustly."
A Newham Council spokesman said: "We have already made clear to the board of governors that there should be a full, independent investigation into all recent allegations regarding Newham College.
"In light of the new information reported by the BBC, we have written to the Skills Funding Agency asking them to undertake a full investigation based on these and any additional allegations.
"We are concerned not only that public money is spent appropriately but also that anyone studying hard knows their efforts are worthwhile and that their qualifications are seen as credible."
The Skills Funding Agency said: "We take any allegations of financial irregularity against an organisation involved in the delivery of skills extremely seriously.
"Allegations relating to Newham College were received, and we have asked for further information."
Ofsted and the Department for Business, Innovation and Skills are yet to comment.