Eleven people found living in Harrow semi-detached home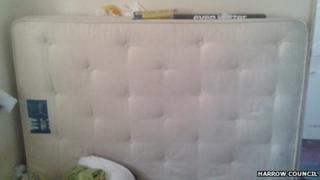 Eleven adults have been found living in a three-bedroom semi-detached house in north-west London.
Harrow Council made the find as part of a "beds in sheds" raid, which aim to tackle illegally rented out buildings.
Council leader Susan Hall described the overcrowding as a "sorry new standard for rip-off Britain".
The tenants, a mixture of Polish and Indian men, paid £55 a week to live in the Waltham Drive house and sleep on mattresses.
Ms Hall said: "We appear to be seeing the resurrection of East End tenement overcrowding in suburban London with levels of exploitation to match.
"Placing up three people in one room with little more than mattresses for decor, and charging £160 a week for it, sets a sorry new standard for rip-off Britain."
She said it was not a victimless crime because the occupants used council services, including rubbish collections, but the council did not receive any grants for them as it did not know they were there.
Properties must have a licence to allow multiple occupation and there are strict regulations on the number of people that can live in a particular sized room.
Harrow Council is now trying to formally interview the landlord, who lives in Bradford, West Yorkshire, under the Police and Criminal Evidence Act.
Sanctions could include a formal caution or prosecution.
The council is currently investigating around 100 cases of illegal multiple occupancy.