'Serious concerns' over Croydon University Hospital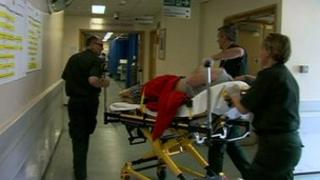 Elderly patients were discharged in their night clothes from a south London hospital, inspectors have said.
The Care Quality Commission report said inspectors had become aware of several such incidents at Croydon University Hospital.
Their report said there were "serious concerns" over poor staffing levels at the hospital's older people's ward and accident and emergency (A&E) unit.
Croydon NHS Trust said it has hired 50 nurses to deal with staff shortages.
The CQC report said the hospital's A&E unit did "not consistently provide safe care" and highlighted high vacancy levels in the unit.
'Poor patient experience'
It also said the "cramped" layout hindered performance, but added that plans to rebuild the unit would improve the situation.
Inspectors said the older people's ward was their "biggest area of concern" with understaffing resulting in a "poor" standard of care.
They said they were concerned about the high number of old people discharged in the evening and overnight and said many were discharged in their night clothes.
Many elderly patients were going home to care homes or were being handed over to other agencies and it was better to discharge them during the day, the report said.
Inspectors praised the hospital's staff, saying they were "well-motivated", and said there was "sustained improvement" in maternity and surgical wards.
The CQC's chief inspector of hospitals, Professor Sir Mike Richards, said: "While most patients praised the care they had received, poor patient experience was still a theme across the trust.
"Long-standing staffing problems at the trust are currently being addressed by a large recruitment drive, but there were still significant staffing challenges in A&E and some inpatient wards."
More nurses
John Goulston, chief executive of Croydon NHS Trust, said an extra 50 qualified nurses have been appointed and more will be joining the hospital by December, but agreed more needs to be done.
"In our A&E department in January we had vacancy rates of 50% for qualified nurses and in January that would be down to 20%.
"The report will go a long way toward helping us make continued improvements where they matter most to staff and patients."
He added that in some cases, elderly people's families preferred for them to be discharged in the evening.
But added the trust needed to prevent the inappropriate evening discharge of patients in the future.