Body in well: Seven men released on bail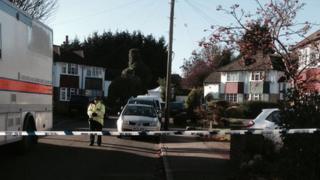 Seven young men have been released on bail after they were questioned by police over the discovery of a body in a well in south London.
The men, aged between 21 and 27, were arrested on suspicion of murder on Friday. They have been released until December, pending further inquiries.
The body was discovered by gardeners at a private property in Audley Drive near Warlingham, on the Surrey border.
Police said the body was white but the gender has not been determined.
A post mortem examination will take place later.
Specialist police divers took several hours to retrieve the body from the water which is about four feet deep (1.2m).
Police said the well is two feet (60cm) in diameter and seven feet deep (2.1m) to the water line.
'Trouble in past'
Det Ch Insp Cliff Lyons said: "This is an unusual case and I would appeal for anybody who has concerns about a missing person, or who believes they may know something about this individual or incident, to call my officers.
"Although I cannot elaborate further at this time, I have reason to believe that this body was placed into the well and we are treating the incident as a murder."
When asked at a press conference about claims by local residents there had been trouble at the house in the past couple of years and police had been called on numerous occasions, Mr Lyons said: "The residents have expressed concern, there is intelligence to support that notion, yes."
He would not comment on who had lived in the house or whether the body was wrapped in carpet or if the body was intact.