Warlingham well body-find leads to seven arrests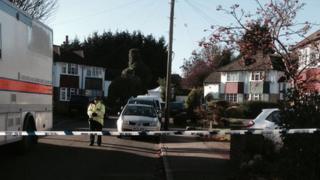 Seven people have been arrested on suspicion of murder after a body was found in a well in south London.
Police were called to a private property in Audley Drive near Warlingham, on the Surrey border, at about 13:50 GMT on Friday.
A marine diving team has removed the body from the well and a post mortem examination is due to take place on Sunday.
Police said the body was white and its size suggested it was an adult.
'Placed in there'
The Met Police said the body, whose gender cannot yet be determined, was found by gardeners who were doing clearing work at the large house, which is situated in a cul-de-sac.
Det Ch Insp Cliff Lyons said: "It is a murder investigation.
"As far as I am concerned, when a body is found in a well, it either fell in there, or was placed in there, and the evidence is apparent that the body was placed in there.
"The well is two feet in diameter, it is seven feet deep to the water line, and the water is approximately four feet deep."
Det Ch Insp Lyons asked anyone with information or who has concerns about a missing person to contact the police and said the body had been there "for a matter of weeks".
Asked about claims by local residents there had been trouble at the house in the past couple of years and police had been called on numerous occasions, Mr Lyons said: "The residents have expressed concern, there is intelligence to support that notion, yes."
A local resident, who did not want to be named, said: "It is really shocking. You do not expect it here. It is a really quiet well-to-do area."