Andrew Jaipaul murder: Three gang members sentenced over violent disorder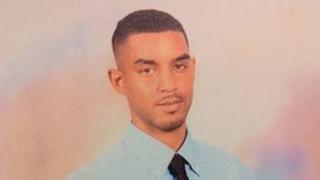 Three men have been jailed for their involvement in the murder of a painter and decorator who was stabbed 25 times as he walked through a London estate.
Andrew Jaipaul, 21, was attacked in Holloway's Andover estate in June 2011.
Jamie Farrell, 26, of Hornsey, was jailed for two years and six months; Tylon Mason-Riley, 20, of Holloway, received 18 months and an 18-year-old a sentence of two years.
They were sentenced at the Old Bailey for violent disorder.
Busy Block gang
Mr Jaipual was killed in 2011 in what the Metropolitan Police described as a "brutal murder" by members of the Busy Block gang from the nearby Elthorne Estate.
The court heard he was attacked and then left dying next to a children's play area.
Previously, four men, Allan Kalema, Tirrell Ball-Thomas, Tommy McInerny, Jojo Mafwa, and two males aged 18 and 15, who cannot be named, were all found guilty of murder and jailed for between nine and 18 years.
Tony Walker, 20, of Hazelville Road, north London, was sentenced to five years and six months for conspiracy to commit grievous bodily harm.
Warren Brooks, 23, of no fixed address, was found not guilty of murder but guilty of conspiracy to cause grievous bodily harm and jailed for seven years.
The case against another man, Orville Sterling, 18, of Enfield, north London, was dismissed.