Carole Waugh's body 'forced into bag'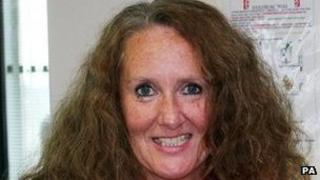 A man accused of murdering a wealthy woman said he was "nearly physically sick" while helping a co-defendant force the victim's body into a bag.
Rakesh Bhayani, 41, said he helped Nicholas Kutner remove Carole Waugh's body from her flat in Marylebone.
He told jurors he was afraid to contact the police because "my fingerprints are all over the fraud".
Mr Bhayani and Mr Kutner, 48, both of north-west London, deny murder but have admitted conspiracy to defraud her.
Prosecutors have previously told the Old Bailey that "the evidence strongly suggests" the 50-year-old, originally from Haswell in County Durham, was stabbed in the neck in her central London flat on 16 April last year.
Her body was found in a garage in New Malden on 2 August.
Giving evidence Mr Bhayani, of Wembley, said Mr Kutner, from Kentish Town, told him when they met in a cafe on Edgware Road that Miss Waugh had died a week earlier.
'Horrible thing to do'
Mr Bhayani said: "He was in a very bad physical way. I said: 'Well what's happened?'
"I'm thinking something has gone wrong with the fraud, and he said: 'Carole's dead'.
"He was telling me that Carole was dead in her flat and it just seemed like the world had stopped really at that moment."
He said the pair went to the flat the next day and put the body into a bag and then carried it to a car, which was initially in a central London car park before being left in a rented garage in New Malden.
Mr Bhayani said he did not notice any injuries on the body which was under her bed.
He said: "I'm in a panic. I've never really seen a dead body before in my life.
"He [Mr Kutner] held her legs out and tried to put her in the bag.
"I was nearly physically sick at that moment. Just the smell, what I was seeing. I couldn't really deal with it."
'Really scared'
He added: "She wouldn't fit so I opened the bag wider."
The defendant claimed his worry about being linked to her death deterred him from contacting the police.
Mr Bhayani said: "When Nicholas Kutner tells me that Carole Waugh is dead, I'm thinking if I phone the police - or why hadn't Nick phoned the police already - that they are going to come to me.
"So I was really scared at the situation. I didn't want to go into Carole Waugh's flat and move her body. It's a horrible, horrible, horrible thing to do."
Mr Bhayani has also admitted perverting the course of justice by concealing the death, which Mr Kutner denies.
A third defendant, Elie Khoury, 40, of Spring Street, Paddington, denies conspiracy to defraud.
The case continues.