Dagenham blaze: Firefighters contain blaze after strike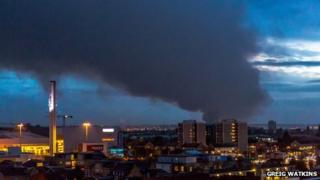 More than 20 firefighters are at the scene of a scrapyard blaze in east London, hours after walking out during a national strike.
About 120 firefighters tackled the blaze on Friday, which involved about 1,500 tonnes of scrap metal.
London Fire Brigade (LFB) attended at 15:20 GMT but crews left at 18:30 when the strike began, leaving 30 contingency firefighters at the scene.
LFB said crews returned to the fire when the strike ended at 23:00.
A spokeswoman told the BBC about 30 firefighters were likely to remain at the scene for much of Saturday and possibly Sunday to ensure no hotspots reignite.
The cause of the fire at the Perry Lane site is not yet known.
LFB advised people in the area to shut their windows as there is a lot of black smoke from the blaze.
The fire was declared a "major incident" due to its size and that it had recalled the firefighters, though this was on a voluntary basis.
The Fire Brigades Union (FBU) tweeted: "Contrary to statement of London Fire Brigade, FBU members are NOT being recalled for the Dagenham fire. LFB has breached recall agreement."
In a statement, London Fire Commissioner Ron Dobson said: "The FBU have told firefighters not to follow the recall notice.
"They claim the recall is not valid because there is no risk to life. There is no reference to risk of life in the agreed protocols to implement a major incident.
"A major incident can and has been implemented because of the size of this fire and the resources needed to deal with it.
"By not responding to the recall, it is the FBU that is in breach of the agreement."
Paul Embery from the FBU said firefighters only left because it was safe to do so and that no life was at risk.
He added that the LFB was not able to recall firefighters without their agreement and that although it was a large fire, it was not a major fire.
Firefighters were striking over government proposals for firefighters to work up to the age of 60, which the FBU says is too old to be fighting fires.
LFB said during the strike 124 calls were made and crews attended 17 incidents.
"Emergency cover was provided from 13 strategic locations by 27 fire engines and around 200 EFCC staff," LFB said.
The next strike is due to happen on 4 November.