Amnesty for London Peabody subletting tenants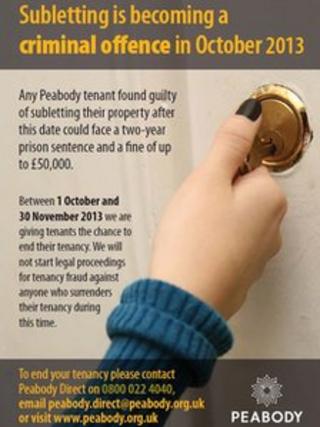 Subletting tenants in properties owned by the London housing association Peabody have been given a two-month amnesty to hand back their keys.
The company, which owns 20,000 properties across 26 boroughs, said it would not take legal action on tenancies ended by 30 November.
Recent legal changes mean subletting, or tenancy fraud, carries a two-year prison sentence and £50,000 fine.
Peabody, set up in 1862, said one property had already been surrendered.
Joe Joseph from Peabody said: "We will take legal action to recover our properties if necessary, so we can offer more homes to people who need them.
"But we want to give people the opportunity to avoid prison for subletting offences. We won't prosecute anyone for tenancy fraud who hands back their keys before 30 November. "
Members of G15, an organisation made up of housing associations in London including Peabody, said houses recently recovered in London were found to have been used for "drug growing, brothel-keeping, use of trafficked sex workers, financial and identity fraud, and antisocial behaviour".