Great London Swim: Thousands take part despite venue change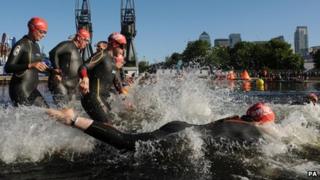 About 3,000 amateur swimmers are taking part in an open water challenge as part of the Great London Swim despite a late change of venue.
The event was due to take place at Royal Victoria Dock but, after it failed a water quality test, it was moved on Thursday to Millwall Dock.
Swimmers in wetsuits must complete a one mile (1.6km) course for the event.
A spokesperson said the event was "absolutely packed" and the change of venue had no impact.
European series
Recent water quality tests carried out at the Royal Victoria Dock found the water to be unsafe for immersion sports, such as swimming, following construction work in the immediate area.
Alex Jackson, Great Swim Series event director, said: "Regardless of the change in location, we are excited to be back in London and to give swimmers an unforgettable open water experience."
The London event marks the end of the 2013 Great Swim Series, which is Europe's biggest open water swimming series.