Celebrities back reading marathon in Trafalgar Square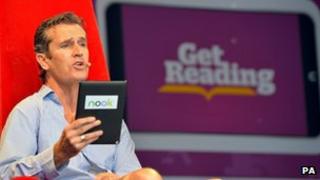 Actors Rupert Everett, Hugh Grant and David Harewood were among the celebrities who took part in a reading marathon in Trafalgar Square.
Some 30 live readings took place at the Get Reading Festival, with messages of support from Princess Beatrice and Stephen Fry.
The event, organised by the London Evening Standard and Nook e-readers, is aimed at encouraging children to read.
There were also live performances from Billy Elliot the Musical and Wicked.
The stars were joined by children's character Peppa Pig.
'Absolutely magical'
Pakistani schoolgirl Malala Yousafzai, who risked her life to campaign for girls' rights to education, also gave a message of support.
Chairman and owner of the London Evening Standard, Evgeny Lebedev, read with actress Barbara Windsor at the free event which finished at 17:00 BST on Saturday.
Everett read from Oscar Wilde's The Happy Prince, which he said was his favourite book as a child.
The actor said: "I think we're reading less and less and I think we have to find a way for us all to start reading more because otherwise we're going to become more and more virtual.
"There's something about the written word that is absolutely magical for the development of the human brain.
"If it is something that is literally phased out completely we're going to become blobs, if we aren't already."
Grant's reading was from CS Lewis's The Lion, the Witch and the Wardrobe, and Homeland actor Harewood's was from Roald Dahl's Charlie and the Chocolate Factory.