Jury out in former Today boss Eddy Shah rape trial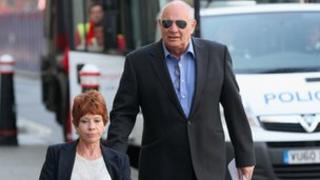 A jury has retired in the Old Bailey trial of a former newspaper proprietor accused of raping a schoolgirl.
Eddy Shah, 69, of Chippenham, Wiltshire, who founded the Today newspaper, denies six counts of raping a girl under 16 in the 1990s.
He had told the jury he had "never touched" the teenage girl.
Former escort Susan Davies, 59, of Swanley, Kent, denies 14 counts of aiding and abetting rape, indecent assault and child cruelty.
Anthony Pallant, 53, of West Malling, Kent, denies rape and indecent assault.