Man charged over attack on Constable's The Hay Wain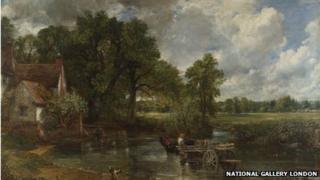 A man has been charged after John Constable's most famous work in the National Gallery was targeted.
Paul Manning, 57, of Kirkstone Road in Sheffield, will appear at Westminster Magistrates' Court later charged with criminal damage.
A photograph was stuck to the 1821 painting, The Hay Wain, at the gallery in Trafalgar Square on Friday.
The attack did no lasting damage as the painting was quickly treated and it was back on display shortly after.